What Is Hemodialysis?
While healthy kidneys have several functions in the body, the most well-known job is to produce urine. When kidney function goes below 10% to 15% kidneys are no longer able to filter the blood and make urine. This causes toxins to build up in the body along with excess fluid. Fortunately, we live in a time when there are treatments and medicines that can replace the functions of the kidneys and keep the body alive. One type of renal replacement therapy — meaning a treatment that replaces kidney function — is hemodialysis. Hemodialysis is a therapy that filters waste, removes extra fluid and balances electrolytes (sodium, potassium, bicarbonate, chloride, calcium, magnesium and phosphate).
How is hemodialysis done?
In hemodialysis, blood is removed from the body and filtered through a man-made membrane called a dialyzer, or artificial kidney, and then the filtered blood is returned to the body. The average person has about 10 to 12 pints of blood; during dialysis only one pint (about two cups) is outside of the body at a time. To perform hemodialysis there needs to be an access created to get the blood from the body to the dialyzer and back to the body. There are three access types for hemodialysis: arteriovenous (AV) fistula, AV graft and central venous catheter. The AV fistula is the vascular access most recommended by the dialysis community; however, you and your doctor will decide which access is best for you.
When a patient goes to hemodialysis, a nurse or technician will check vital signs and get the patient's weight. The weight gain will tell how much excess fluid the patient has to have removed during the treatment. The patient is then "put on the machine". Patient with a vascular access (AV fistula or AV graft) will get two needle sticks in their access; one needle takes blood out of the body, the other needle puts it back. Patients with a central venous catheter will have the two tubes from their access connected to the blood tubes that lead to the dialyzer and back to the body. Once the patient is "put on the machine", the dialysis machine is programmed and then treatment begins.
Blood never actually goes through the dialysis machine. The dialysis machine is like a big computer and a pump. It keeps track of blood flow, blood pressure, how much fluid is removed and other vital information. It mixes the dialysate, or dialysis solution, which is the fluid bath that goes into the dialyzer. This fluid helps pull toxins from the blood, and then the bath goes down the drain. The dialysis machine has a blood pump that keeps the blood flowing by creating a pumping action on the blood tubes that carry the blood from the body to the dialyzer and back to the body. The dialysis machine also has many safety detection features. If you visit a dialysis center, you will likely hear some of the warning sounds made by a dialysis machine.
How does hemodialysis work?
The dialyzer is the key to hemodialysis. The dialyzer is called the artificial kidney because it filters the blood — a job the kidneys used to do. The dialyzer is a hollow plastic tube about a foot long and three inches in diameter that contains many tiny filters. (Dialyzers are made in different sizes so doctors can prescribe the best one for their patients.) There are two sections in the dialyzer; the section for dialysate and the section for the blood. The two sections are divided by a semipermeable membrane so that they don't mix together. A semipermeable membrane has microscopic holes that allow only some substances to cross the membrane. Because it is semipermeable, the membrane allows water and waste to pass through, but does not allow blood cells to pass through.
Dialysate, also called dialysis fluid, dialysis solution or bath, is a solution of pure water, electrolytes and salts, such as bicarbonate and sodium. The purpose of dialysate is to pull toxins from the blood into the dialysate. The way this works is through a process called diffusion. In the blood of the hemodialysis patient, there is a high concentration of waste, while the dialysate has a low concentration of waste. Due to the difference in concentration, the waste will move through the semipermeable membrane to create an equal amount on both sides. The dialysis solution is then flushed down the drain along with the waste. The electrolytes in the dialysis solution are also used to balance the electrolytes in the patient's blood. The extra fluid is removed through a process called filtration. The fluid is pushed off by higher pressure on the blood side than on the dialysate side.
How often is hemodialysis done?
Blood needs to flow through the dialyzer for several hours to adequately clean the blood and rid the body of excess fluid. Traditional, in-center hemodialysis is generally done three times a week for about four hours each session. Your doctor will prescribe how long your treatments will be, usually between 3 to 5 hours, but most common is 4 hours. Talk to your doctor about how long you should be on hemodialysis. Some people feel that dialysis lasts a long time; however, healthy kidneys work 24 hours a day, 7 days a week and dialysis must do the job in only 12 or so hours a week.
Alternative hemodialysis schedules include nocturnal and short daily. Normally, these treatments are performed by people who do home hemodialysis. With nocturnal hemodialysis, the patient has dialysis for about eight hours overnight while sleeping. This is a longer, gentler treatment so patients say they have fewer problems with cramping and the "washed out" feeling reported after traditional hemodialysis. More dialysis centers are beginning to offer in-center nocturnal hemodialysis based on reports of patients feeling better about their quality of life and having good lab results. Short daily hemodialysis is performed five or six times per week for about two to three hours each treatment. Talk to your doctor if you are interested in home hemodialysis (HHD) or in-center nocturnal dialysis. You may want to ask your social worker if addition treatments, such as the longer nocturnal hemodialysis and short daily hemodialysis will be covered through your insurance.
Advantages and disadvantages of hemodialysis
Hemodialysis is an effective treatment for those with end stage renal disease. However, hemodialysis alone will not provide a complete treatment for those with kidney failure. Diet and fluid restrictions need to be followed, and medicines may need to be taken to replace other functions of the kidneys, such as regulating blood pressure and stimulating production of red blood cells to prevent anemia.
For those who choose in-center hemodialysis, some of the benefits are that they will have their treatments performed in a dialysis center by trained professionals. They can spend their time in dialysis sleeping, reading, writing, watching television, listening to music or doing other quiet activities. There are four days a week when they will not have to go to dialysis. Some of the disadvantages are that they will have to travel to and from hemodialysis three times each week and it takes advanced notice to travel and arrange for dialysis in a visiting dialysis center. The diet restrictions include limiting foods that contain phosphorus, potassium and sodium and drinking a limited amount of fluid. Some people report a "washed out" feeling after hemodialysis and go home to take a nap. Those who perform nocturnal hemodialysis (in center or at home) report that this washed out feeling is not as common. Also, because nocturnal dialysis is performed during nonproductive sleeping hours, many people report they feel that their lives are more "normal" because they don't have to take time out of their days for dialysis.
People who choose to perform hemodialysis at home say they enjoy the feeling of control they have over their lives. Instead of going to the dialysis center at a certain time, they can choose when to perform hemodialysis around their schedule.
There is another type of dialysis called peritoneal dialysis (PD). PD is done by filling the peritoneum in the abdomen with dialysate and using the peritoneal membrane as a semipermeable membrane. There are diet and fluid restrictions with peritoneal dialysis; however, these are usually not as limited as hemodialysis because this therapy is performed every day. PD treatments are performed at home, and so do not require three visits to a treatment center each week. Peritoneal dialysis also has a nighttime treatment option that makes it easier for patients to work, attend school or travel.
All dialysis treatments have their advantages and disadvantages. Based on your lifestyle and medical needs, you and your doctor can discuss your options and decide which one is right for you.
Get Free Kidney-Friendly Cookbooks
Explore Home Dialysis Options
Get to know the many benefits of peritoneal dialysis (PD) and home hemodialysis (HHD).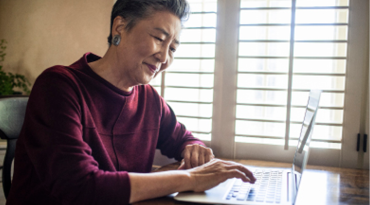 Learn to manage your kidney health.
Learn to manage your kidney health.
Get your questions answered in a no-cost Kidney Smart® class.
Related articles on DaVita.com
Take a Deeper Look at Treatment & Services