Gregory Ridgeway – In-Center Patient
Gregory Ridgeway, 52, has always had an eye for improving things. He's been a handyman for much of his life and for more than 15 years, he's had a thriving window washing and building repair business. He also has been dialyzing with DaVita for more than a decade.
In 1991, Gregory was told that his kidneys were failing and he was on the brink of dialysis. Unmaintained hypertension was the reason for his kidney disease. "I didn't feel like anything was wrong with me, but that's why hypertension is called a 'silent killer,'" he said.
Three years had passed since his diagnosis and it was time for Gregory to go on dialysis. Since Gregory had treatments three times a week, he became more creative when he thought about new job prospects. Social Security was not enough to keep the single dad afloat, so Gregory decided that he'd put his handyman skills to work. He found that this way of earning a living was ideal because he could work his own hours and not have dialysis treatments interfere with his job.
Gregory's can-do attitude hasn't stopped with his career; he has the same approach when it comes to his health.
"Dialysis is a lifestyle change, not a death sentence," said Gregory. "It's all about having an optimistic attitude, along with being compliant with the diet, not skipping dialysis treatments and taking the prescribed medicines from the doctor." Gregory has encountered many people at his center, including DaVita teammates who are in good spirits when caring for him and other patients. If he could give advice to new patients who need dialysis, he'd tell them that they have a choice on whether they make it a good experience or a bad one.
"I find that being pessimistic works to some patient's demise, and they give up and succumb to the disease," said Gregory. "Facing kidney failure is like growing up; you have to do it. You have to choose to be mature-minded about any difficult situation."
Gregory said he is inspired by his children, sisters and minister. When he's had to face any challenges in his life, Gregory said that his strong spiritual belief is what keeps him going. "Everything's going to be alright if I trust in God."
Get Free Kidney-Friendly Cookbooks
Explore Home Dialysis Options
Get to know the many benefits of peritoneal dialysis (PD) and home hemodialysis (HHD).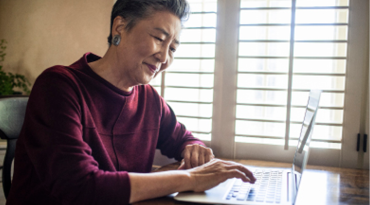 Learn to manage your kidney health.
Learn to manage your kidney health.
Get your questions answered in a no-cost Kidney Smart® class.