Getting Started on Peritoneal Dialysis 
For people interested in home dialysis, understanding how the peritoneal dialysis (PD) treatment option works and how to get started on this safe and effective treatment option is a good place to begin. Here are five steps to help you get started on PD.
1. Talk with your doctor about PD
The most important thing to do if you're interested in doing PD is to speak with your nephrologist (kidney doctor). Before deciding if this is the type of dialysis you will do, become knowledgeable about your dialysis options. In addition to talking with your nephrologist, meet with a dialysis educator, read and watch educational materials, and consider visiting a dialysis center. Ask about the potential health and lifestyle benefits and any medical risks. Ask about your treatment options and how your choice may affect your schedule, home, diet, lifestyle and overall health.
2. Schedule your PD catheter placement
Once you and your doctor decide that PD is right for you, you will need to have a PD catheter placed into your abdomen. A PD catheter is a flexible plastic tube that allows dialysis fluid to enter the abdominal cavity and dwell inside for a period of time, then the fluid will drain back out again to remove toxins and fluid. In general, it is recommended to have the catheter placed at least two weeks before performing PD. In some cases, PD may start within a few days of having the catheter placed. PD catheter placement is considered a minor operation that takes less than one hour of surgical time and most patients are able to go home the same day.
After your PD catheter surgery, it's important to attend your follow-up appointments and follow all post-surgery directions. In most cases, you'll be asked to return and visit your nurse a few days after your operation.
3. Start your PD training
Members of your care team (your PD nurse, dietitian and social worker) will all help take you through a comprehensive PD training program tailored to your specific medical needs. The program will provide the education, tools and support needed to stay healthy and safe while potentially enjoying the many benefits of PD.
Learning about PD and how to perform it is pretty easy for most people. Children and people with certain handicaps, such as learning disabilities, blindness and amputations, have been taught to successfully perform PD.
You and your optional care partner (a person who can help with your PD treatments) will attend training at a dialysis center and it can take two weeks to learning the following information:
Learning to use your equipment
Maintaining a clean environment so you can safely perform your treatments (washing your hands before touching your catheter, cleaning your exit site every day, wearing a surgical mask when doing exchanges and checking solution bags for contamination)
Learning about a kidney-friendly diet, fluid intake and medication management
Managing your supplies
Keeping an organized log of your treatments

Learning to spot the signs of an infection, including abdominal pain and redness around the PD catheter
Find more resources in our About to Start PD Training section here.

4. Prepare your house
Your care team will evaluate your home to help ensure that your general surroundings and treatment area allow you to perform PD safely. Your home should have:
Running water, electricity, telephone service and a refrigerator to store certain medications
A clean environment to perform PD exchanges
Adequate space to store PD supplies
Ability to close the door to your treatment area and the ability to control the air conditioning and heating

An area for treatment and supplies that pets cannot access
5. Set up your support network
Creating a support team will help make your experience with PD more manageable.
Build a relationship with your doctor and care team.

At DaVita, our approach is to treat you personally, not just your kidney disease. Our dedicated and highly trained clinical care team works closely with a broad range of specialists to address your physical, emotional and financial needs.

Connect with people like you on social networks.

myDaVita is our online community that helps you make lasting connections as you learn to understand and manage all aspects of your kidney care.
Involve your loved ones. Help them understand what you are going through by talking to them about your kidney disease diagnosis. Work with your care partner to set expectations. Understand the implications on both of you and who will take on what responsibilities. Ask for support from friends and family (this can include help with meals, talking a walk together, call for support, etc. as you get used to your new routine).
Find a DaVita PD program
Are you interested in finding a PD program near you? Call DaVita Guest Services at 1-800-244-0582 or find a center with a home dialysis program nearest you.
Learn more about PD
Get Free Kidney-Friendly Cookbooks
Explore Home Dialysis Options
Get to know the many benefits of peritoneal dialysis (PD) and home hemodialysis (HHD).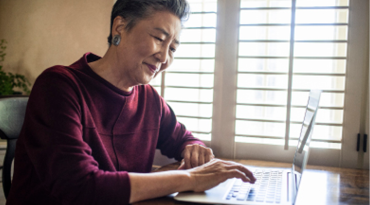 Learn to manage your kidney health.
Learn to manage your kidney health.
Get your questions answered in a no-cost Kidney Smart® class.
Take a Deeper Look at Treatment & Services