Common Peritoneal Dialysis Myths Revealed
If you've heard some myths about peritoneal dialysis (PD), you should know that many of them are just that—myths. Let's reveal the truth about PD so you can see if this home treatment option is right for you.
Myth 1: Infections are more common with PD (than other modality choices).
False. Peritonitis, the most common infection for people on PD, can actually be prevented with proper training and handwashing techniques.1 If an infection does develop, it can often be treated at home with antibiotics. In fact, people on PD have a lower risk of blood infections2 and are hospitalized less frequently than people on in-center hemodialysis (ICHD).3 You are also more likely to get kidney transplant in the U.S. than experience of case of peritonitis.4,5
Myth 2: PD is very time consuming.
False. PD may allow you more time to spend with family and friends, at work, or to simply do what you love most because you can perform dialysis outside of a dialysis center. Additionally, if you choose continuous cycling peritoneal dialysis (CCPD), you will dialyze while you sleep and spend an average of three hours per week setting up and cleaning equipment.
Myth 3: PD is not practical for anyone who is overweight, tall or muscular.
False. People with large body masses can do well on PD. Studies show that mortality and infection rates are similar for people with end stage renal disease (ESRD) who have a higher body mass and are on PD as those on in-center hemodialysis (HD).6,7 People who are on PD and overweight should be monitored carefully because of an increased risk of catheter infections and peritonitis.
Myth 4: PD is not an option for anyone with disabilities.
False. Although PD may be more challenging for people with certain disabilities (blindness, deafness, amputation, etc.), this treatment may still be an option. With the help of a care partner and/or special equipment it can often be done. Training and safety programs are available to educate you and your care partner on how to perform safe and effective treatments.
Myth 5: PD is not an option for older people.
False. There are no age limits for this treatment option. Elderly people as well as children may be able to perform PD with the help of a care partner. Care partners can make it easier to perform treatments, which may help you feel more confident and comfortable dialyzing at home.
Myth 6: People on PD can't own pets.
False. Pets cannot be in the room while you are performing PD, but you can still have them. Be sure to keep your home and designated treatment area clean.
Now that you've uncovered the myths of PD, speak with your nephrologist (kidney doctor) about any additional questions you may have and what treatment options could work well for you.
Find a DaVita PD program
Are you interested in finding a PD program near you? Call DaVita Guest Services at
1-800-244-0582 or find a center with a home dialysis program near you.
Learn more about PD
1. Firanek, C and Guest, S. Perit Dial Int. 2011;31(4):399-408. 2. Dalal, P et al. Int J Nephrol. 2011: Article 239515. 3. USRDS 2016 Annual Report. 4. Chapter 6: Transplantation. United States Renal Data System website. https://www.usrds.org/2018/view/v2_06.aspx. 2018. Accessed December 12, 2018. 5. Internal DaVita data 2018. 6. Lee MB, Bargman JM. Myths in peritoneal dialysis. Curr Opin Nephrol Hypertens. 2016 Nov;25(6):602-608. 7. Ahmadi SF, Zahmatkesh G, Streja E, Mehrotra R, Rhee CM, Kovesdy CP, Gillen DL, Ahmadi E, Fonarow GC, Kalantar-Zadeh K. Association of Body Mass Index With Mortality in Peritoneal Dialysis Patients: A Systematic Review and Meta-Analysis. Perit Dial Int. 2016 May-Jun;36(3):315-25.
Get Free Kidney-Friendly Cookbooks
Explore Home Dialysis Options
Get to know the many benefits of peritoneal dialysis (PD) and home hemodialysis (HHD).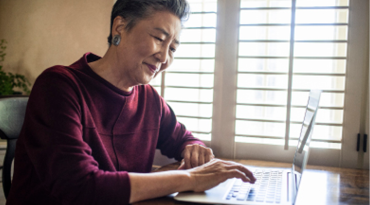 Learn to manage your kidney health.
Learn to manage your kidney health.
Get your questions answered in a no-cost Kidney Smart® class.
Take a Deeper Look at Treatment & Services