Is Your Home Dialysis Adequate? 
By Melissa R. Harrell RN, BSN, PD Home Training Nurse & Preceptor
Disclaimer: This article is for informational purposes only and is not intended to be a substitute for medical advice or diagnosis from a physician.
What is dialysis adequacy? It is a test performed to verify that you are receiving enough dialysis. Adequate dialysis means that the blood is "well-cleaned." When patients are adequately dialyzed, they feel better, sleep better, have a better appetite and, usually, their labs will be within a normal range. Generally, patients who are dialyzed adequately can live longer and have a better quality of life. When a patient is not dialyzed adequately, they may experience poor appetite, tiredness, weakness, nausea and vomiting. This leads to poor health and an increased risk of dying. If a patient is experiencing any or all of these symptoms, it is very important to inform their nurse as soon as possible so that they can be evaluated.
The home dialysis care team will schedule regular adequacy testing. The frequency of these tests is based on the type of home dialysis (peritoneal dialysis or home hemodialysis), changes in the dialysis prescription, or changes in the person's health status.
Adequacy testing for people on peritoneal dialysis (PD)
One week after a patient reaches the full prescription
Every three months or more often if ordered
One week after any change in dialysis prescription
One month after an episode of peritonitis
When the patient experiences any dialysis-related problems that could be associated with the prescribed dialysate or time on therapy
Adequacy testing for people on home hemodialysis (HHD)
Every month
After any change in dialysis prescription
When the patient experiences any dialysis-related problems that could be associated with the length of treatements
Achieving adequate dialysis
In order to achieve adequate dialysis, active participation of the person performing home dialysis is required. Here are a few ways patients can help.
Complete all of the treatments prescribed by your physician.
Do not skip any treatments and do not shorten treatment time.
Pay attention to and care for your dialysis access daily
Notify your nurse promptly about any access concerns.
Collecting samples to determine adequacy is another task that requires your active participation. Although, the procedure may seem simple, the lab performs complex mathematical calculation once it receives your specimens and correct results depend on collecting specimens per policy. We encourage you to call and review the procedure with your nurse before you start collecting your samples if needed.
Tips on collecting samples for PD patients
Collect all of your drained dialysis fluid (effluent) for a 24-hour period.
Bring in midday exchange with cycler bag if you use one.
Clamp bags properly so fluid is not lost during transport.
Collect all urine output as directed.
Bring in home records with the percentage of solution used and the cycler information.
Tips on collecting samples for HHD patients
Make sure the lab tubes are filled completely.
Use the red-top tube to draw the pre-dialysis sample and the green-top tube for post dialysis sample; follow directions on the tube label.
Ensure centrifuge is balanced: Spin red and green top tubes separately and balance each tube with correct balancing tube.
Review the draw date on the tube to be sure it matches with your draw date. If it does not, cross off the date on the tube and write in the correct date and your initials.
Remember, if you have any questions, your home dialysis care team is just a phone call away.
Get Free Kidney-Friendly Cookbooks
Explore Home Dialysis Options
Get to know the many benefits of peritoneal dialysis (PD) and home hemodialysis (HHD).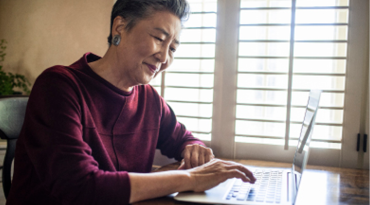 Learn to manage your kidney health.
Learn to manage your kidney health.
Get your questions answered in a no-cost Kidney Smart® class.
Take a Deeper Look at Treatment & Services